The Connecticut B.A.S.S. Nation (CBN), founded in 1974 by a group of people whom shared a common passion for fishing. As the years passed the membership has grown to more than 300 members. There are clubs comprised of men, women and children whom take an active interest in fishing and protecting our resources. We encourage and promote "Catch and Release" fishing and are dedicated to youth and the environment. Each year the CBN awards four scholarships to member families to help defray the rising costs of college tuition. The CBN is also proud to support, The CT DEEP, The Candlewood Lake Authority, and Veterans Tournaments in conjunction with Gaylord Hospital & Major Steven Roy Andrews Foundation.
The CBN hosts a trail of fishing events each year, there are three Tournaments, these events are open to all our members. The Top Two Boaters and Top Two Non Boaters from these three events advance to the CBN State Team. We then take the next 25 Anglers and next 25 Co anglers from the three Tournaments combined points to fish Tournament #4, The CBN Classic. Our top two Anglers and Top Two Co Anglers advance to the CBN state team, along with the top Angler and top Co Angler in the the Bryan Kerchal Tournament of Champions (Mr. Bass). At the end of the year we hold a state championship and the top 6 Anglers and the top 5 Co Anglers move on to fill our remaining spots on the state team. The 22 person state team competes in a regional tournament against 11 other states and Spain for a week. The top Angler and the top Co Angler from each State advances to the BASS Nation National Tournament and if the Boater is the winner in his Division he moves onto the Bassmaster Classic. The top Non Boater in the Nationals after Day Two is Crowned and awarded a berth as a boater into the final day of competition and possibly qualify for the Classic!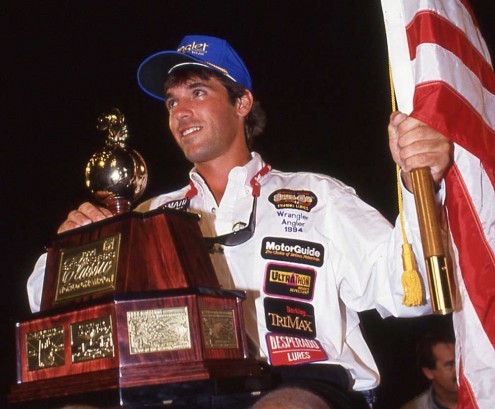 Connecticut's own  Bryan Kerchal
1994 Bassmasters Classic winner!