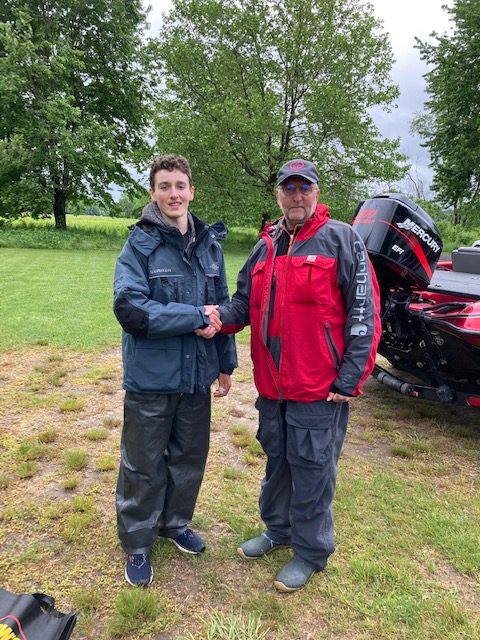 The 2021 C.B.N Scholarship recipients have been chosen. First off, we would like to thank our three judges for volunteering their time for this. They are Neil Gordon, Rafael Deleons and Chris Bielrt, without these gentlemen our scholarship program could not exist.
The First Place $1500.00 Scholarship is Awarded to Carter Shannon of Branford, CT. He is the son of Sonia & Jeffrey Shannon. Carter is a C.B.N. High School Angler and will be graduating from Branford H.S. this spring. An active volunteer with the Branford Community Dining Room program, the lead researcher working with the University of Connecticut on the Branford Supply Ponds project and an accomplished artist creating "Block Fish" prints to be sold as a fundraiser for the Connecticut River Conservancy program. Carter will be attending Wake Forest University in the fall.
The Second Place $1000.00 Scholarship is Awarded to Evan Kamoen of Killingworth, CT. He is the son of Jennifer & Clement Kamoen. Evan is also a C.B.N. High School Bass fisherman and will be graduating from Marine Science Magnet H.S. Balancing his time between his part time job at Black Hall Outfitters, participating at Mystic Aquarium with an Internship and becoming an Eagle Scout, Evan certainly keeps busy. Looking to pursue a degree in Marine Sciences, he will be choosing from the University of New England, Roger Williams University and University of Maine.
The Third Place $500.00 Scholarship is Awarded to Emile Caron of Riverton, Ct. She is the daughter of Christina & Jeffrey Caron and is sponsored by her grandfather James Battisto, who is a member of Mohawk Valley Basscasters. Emile is currently a student at the University of Connecticut and is studying Animal Science with an interest in Agricultural Education.
We congratulate all our recipients, all our applicants and again thank our three judges for their time and effort.
Thank You,
Mike Billings
C.B.N. Scholarship Director & C.B.N. Vice President